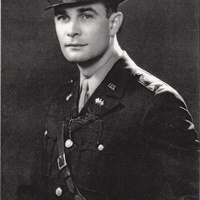 May 13, 1916-Feb. 19, 2002
85 years old
From Jerome, Idaho
> Colonel in the United States Army
> Participated in Normandy Invasion
> Attended College of Iadho State University
> Graduated from Jerome High School
> Married childhood sweetheart, Bonnie MacQuivey
> Together raised 7 children
Wes Loved
> Loved to travel
> Love video and film
> Love his family through and through
> Honorable and truly on of "The Greatest Generation"
Life Story
Wes began his adventure called life on May 13, 1916 in Jerome, ID. He helped his father in the family hardware store, graduated from Jerome High School and went to the school of hard knocks brought on by the 1963 Depression. Wes helped support his family, and working for the U.S. Forest Service. He attended the College of Idaho State University before he joined the Army following the attack on Pearl Harbor. Wes was commissioned as an office in the Signal Corps then served in the European Theater of World War II. He participated in the Normandy Invasion and advanced into Germany to the Battle of the Bulge. After winning the war, Wes ramined active in the Army Reserve and retired as a full Colonel.
Before Wes was sent overseas, he married his childhood sweetheart , Bonnie MacQuivey in 1943. Together they raised seven children in Wendell, Idaho, until her intimely death in 1968. Wes and Bonnie loved to travel with their children around the entire United States in their pickup camper. Later, Wes would travel extensivey through out the world with his children and grandchildren. Just months before his passing, as one of the last living members of "The Greatest Generatio" in a wheelchair, Wes was paid his final respects to the men who died at Pearl Harbor.
Wes will be fondly remembered as the Gooding County Assessor who for 13 consecutive terms fought the Idao State Tax Commission and the Idao Legislature for fair and reasonable tax laws. After he retired in 1980, Wes was elected State Senator spending a whopping $200 on his election campaign.
Wes celebrated each day of his life with insatiable curosity, love of people, and undaunting optimism. Timeless icons that he leaves behind include The Penny Car that he and his grandshildren covered with 34,000 pennies, and a 1920 Hudson touring car that he lovingly restored to mint condition.
Wes Trouson, age 85, said good-bye to each of his eight children, then passed away Feburary 19, 2002 in Boise, ID.